26 May 2023
Record-breaking attendance at the IT Career Day 2023
CAREER FAIR
The IT Career Day 2023 saw a record number of students. Many new relationships were created.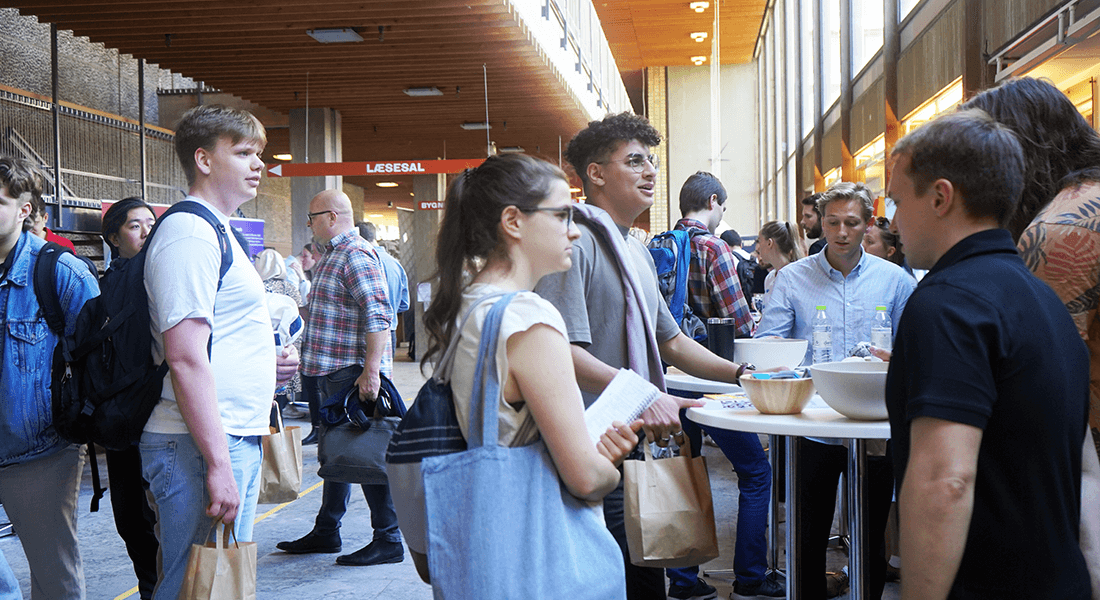 This year's IT Career day 12 May at UCPH for students with programming skills was kicked off with pitches from the 45 companies to give the students a chance to prioritize their route through the maze of exhibitors in the hallway of the HCØ-Building.
In addition to career interviews, the students could also get advice on how to write the perfect CV at Jobindex and the IT Job Bank, the international students could at SCIENCE Education and the Copenhagen Municipality Erhvervshus receive advice on the Danish labour market and hear about special courses. Moreover, there was also help for those interested in Innovation and Entrepreneurship at both SCIENCE Innovation Hub and Copenhagen Science City.
As a new initiative, 'the Specialists', who collaborate with a number of Danish companies on the sourcing of IT talents with neuro-diversity, talked to interested students, who could draw on their expertise on how to onboard more safely in the business community after graduation.
New record: 600+ student visitors
The audience record of no less than 600 students, PhD students and postdocs gave rise to medium-long queues at particularly popular stands. The very elongated and narrow footpath of the HCØ hallway is really not designed to house career fairs, but has nevertheless over the last approx. ten years, been the permanent venue for DIKU's annual Career Day in May, being the largest coherent indoor area on Nørre Campus, where the majority of students lead their everyday lives.
On this Friday in May, the sun was shining from a cloud-free sky through the large floor-to-ceiling windows, which made both exhibitors and students sweat. Water bottles were frequently collected and later flushed down with a draught beer from the Friday bar.
The organisers (DIKU employees) can once again look back on a well-completed career day with positive feedbacks from many of the participants. See highlights and snapshots from the day:
Topics
Disse virksomheder deltog i 2023:
3Shape
Accenture
cBrain
Cenvation
Churney ApS
Copenhagen Science City
Dalux
Demant
Deon Digital
DSB
EY
Forsvarets Efterretningstjeneste
Forsvarsministeriets Personalestyrelse
Foss Analytical A/S
Halfspace
IBM Denmark ApS
Immeo
Jobindex
Kraftvaerk A/S
Københavns Kommune/Erhvervshus København
Microsoft
Netcompany
NNE
Nnit
Novo Nordisk
Nykredit
PFA Pension
RD8
Rigspolitiet
SAS Institute
Saxo Bank
SCIENCE Innovation Hub
SCIENCE Uddannelse
SimCorp
Specialisterne Aps
SupWiz
Topdanmark Forsikring og Pension A/S
Trifork
Udviklings- og Forenklingsstyrelsen