20 May 2022
The IT Career Day 2022 broke all previous records
Career fair
The first physical IT career day for three years was a festive and well-attended culmination of a long tradition at DIKU. 47 companies and far more than 400 students participated and had a good chat about career opportunities.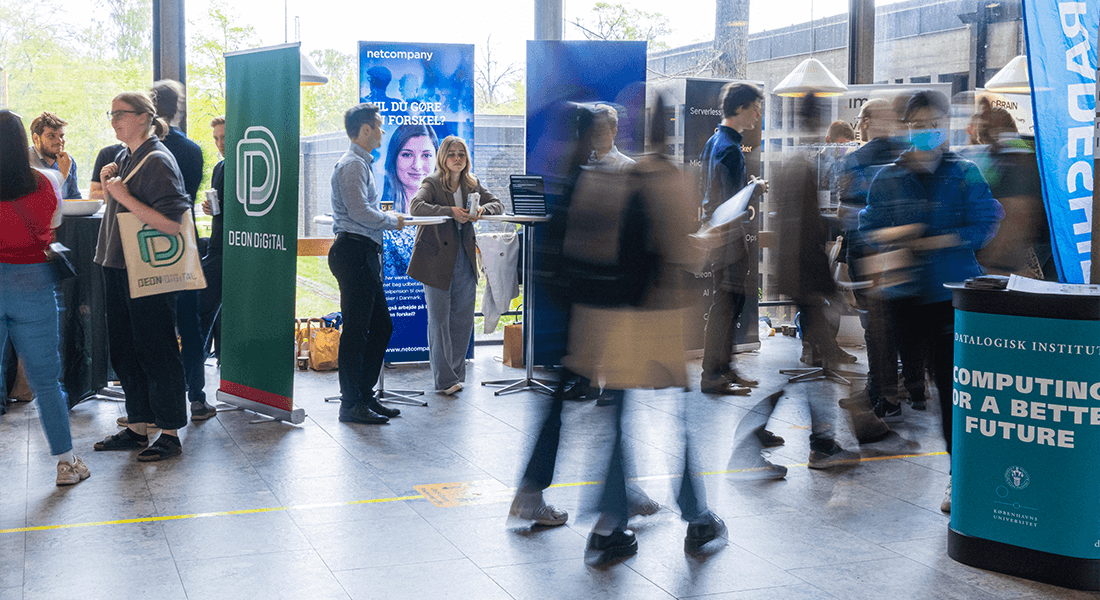 Expectations were great – not least for the 47 participating companies – when DIKU blinded up for the first physical career day for three years after two years with virtual events. And they were not disappointed. The largest number of students to date – well over 400 – had come to talk to their - perhaps - future employers.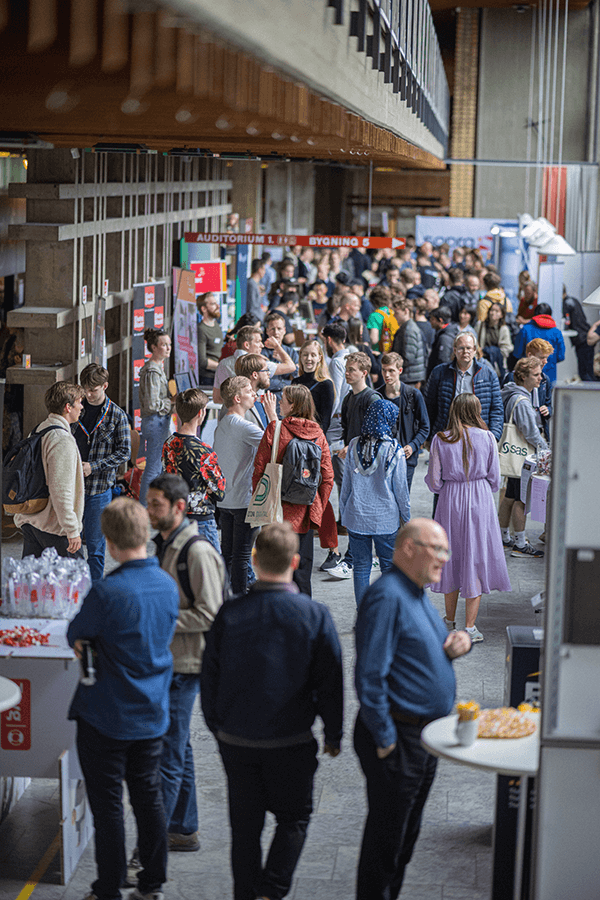 The recipe for success: One Minute of Madness, Company Dating, CV Consultancy and draught beer!
A permanent ingredient is the well-established One Minute of Madness presentation in Lecture Hall 1, where the DIKU Business Clubs Inge Hviid Jensen and the Department Head Jakob Grue Simonsen are welcoming students and businesses. There speed is frentic, when the microphones go from hands to hands among 47 company presenters. This tradition is popular, as it provides a good overview and a basis for prioritising who you would like to talk to during the fair, which this year virtually was extended to the entire walking hall in the HCØ building. In addition to the large open exibition area, the fair offered an hour of Company Dating, where 37 companies and 70 students had booked 1-1 consultations of 10 minutes each.
CV consultancy is offered to enhance the students' profiling
Jobindex offers CV counselling to students who want to profile themselves more professionally. Many students took advantage of this. They can choose to upload and send their CV to the companies afterwards. The Copenhagen Capacity Business Centre offers advice and guidance on the Danish labour market to the many international students, and Copenhagen SCIENCE City as well as UCPH's SCIENCE Innovation Hub inform about the possibilities for working with Innovation and establishing a startup company.
This year, DIKU had also opened its doors to refugees residing here, with a working permit and an ID education on at least bachelor level from a university. About ten Ukrainians and a couple of other nationalities accepted the invitation and showed up and were welcomed by the companies.
Without food and drinks....
... 'the hero does not work', as the Danes say.  As always, the draught beer taps were opened and food was brought up to thirsty and hungry students and companies as the day ended. The organisers, who primarily consisted of DIKU's Events, Communications and Business sections, can now look back on a successful event and start planning for next year's career day in May.


Watch highlights from the Career Day 2022:
Disse virksomheder deltog
A.P. Møller-Maersk
SAS Institute
Danske Bank
Halfspace.io
NNIT
BCG Platinion
Jobindex
EY
Tobi
Udviklings- og Forenklingsstyrelsen
Copenhagen Science City
Sopra Steria
Nykredit
Novo Nordisk
Topdanmark Forsikring og Pension
Demant
Delegate
Culmas
Nine
LEGO Systems
NNE
Deon Digital Denmark
Netcompany
Immeo
cBrain
IBM Denmark
HOFOR
Koncern IT, Københavns Kommune
Fujitsu
Novozymes
DHI
Tradeshift
Session
MongoDB
PwC
Ekstrabladet (Politikens Hus)
Knowledge Cube
Københavns Erhvervshus
Microsoft
SCIENCE Innovation Hub
Tryg
Churney
PFA Pension
Ambu
Dalux
Supwiz
Resights
RD8