08 February 2019
New global maritime platform will improve electronic communication at sea
Maritime Connectivity Platform
The University of Copenhagen becomes a main actor and signatory to a new platform that will enable a better infrastructure for the maritime sector. The Maritime Connectivity Platform will establish a common infrastructure for efficient, secure, reliable and seamless electronic information exchange among maritime stakeholders. Nearly 100 organizations worldwide have signed up.
On the 8 February 2019, the Maritime Connectivity Platform Consortium (MCC) was officially launched. Representatives of the initial consortium took part in a signature ceremony at the 'e-navigation underway international 2019' conference on board the Copenhagen-Oslo ferry in Copenhagen. The consortium will supervise the further research and development of common rules under the platform.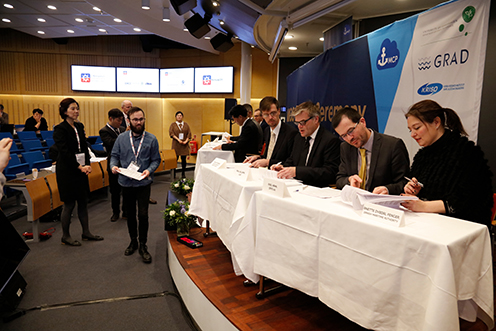 A new standardized communication system is coming into practice
For many years the maritime sector has suffered from the lack of common communication and internet standards. Parallel systems have existed, but the major stakeholders have until recently not succeeded to unify the respective initiatives into a common protocol or practice.

With the signing of the Maritime Connectivity Platform (MCP) around 100 maritime authorities and organisations have agreed to support a new platform that brings common internet standards to maritime navigation and transportation systems and thus provides a new infrastructure for efficient, secure, reliable and seamless electronic information exchange among maritime stakeholders using available communication systems. The MCP is based on an open and vendor-neutral technology.
The initial consortium in now established with the following non-commercial organization: OFFIS (Germany), KRISO (Republic of Korea), RISE (Sweden), the University of Copenhagen and the General Lighthouse Authorities of UK and Ireland (GLA). The Danish Maritime Authority (DMA), the Swedish Maritime Administration (SMA) and the Ministry of Ocean and Fisheries of the Republic of Korea (MOF) are joining as Governmental Observers. All were present at the officiel signature ceremony on 8 February 2019.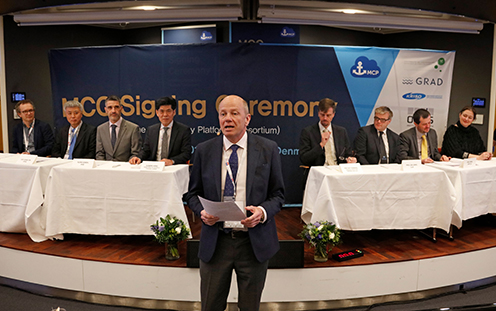 Front: Francis Zachariae, Secretary general, IALA, giving the ceremonial introduction. From left sitting at the desks: Mads Nielsen, University of Copenhagen, Sun Young Kim, Korean Research Institute Ships and Ocean engineering, Paul Williams, General Lighthouse Authorities, UK, Sunbae Hong, Korean Ministry of Oceans and Fisheries; Per Setterberg, Swedish maritime administration; Thomas Christensen, SMART-Navigation Project Office; Axel Hahn, OFFIS and Universität Oldenburg, Germany; Anette Dybdal Fenger, Director of Business Intelligence and Development, Danish Maritime Authorities.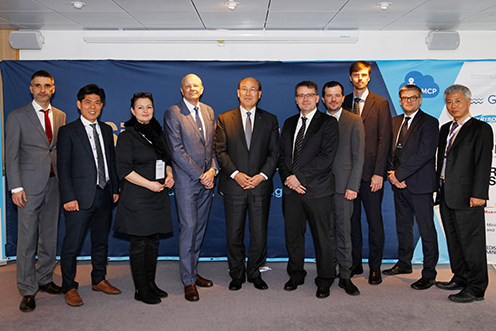 E-navigation and digitalization of the maritime sector on the future agenda
In 2015, three large research projects from Europe and Korea respectively began to join forces and collaborate on the common use and further development of the technology. The projects were: 'EfficienSea2' and 'STM Validation' funded by the EU and the 'SMART Navigation project' funded by the Korean government. An MCP testbed was established which has now been running for several years and will continue to do so under the new platform.
The MCP initially addresses the goals of the e-navigation initiative of the International Maritime Organisation IMO, but the long term objective is to support the digitalisation in the maritime domain at large.