6 March 2020
Happy International Women's Day: From one to five female professors in 18 months
International Women's Day
This year, DIKU marks the International Women's Day by celebrating our four newest female professors. Read here how these four women are changing the narrative that Computer Science is a male profession with their pioneering research.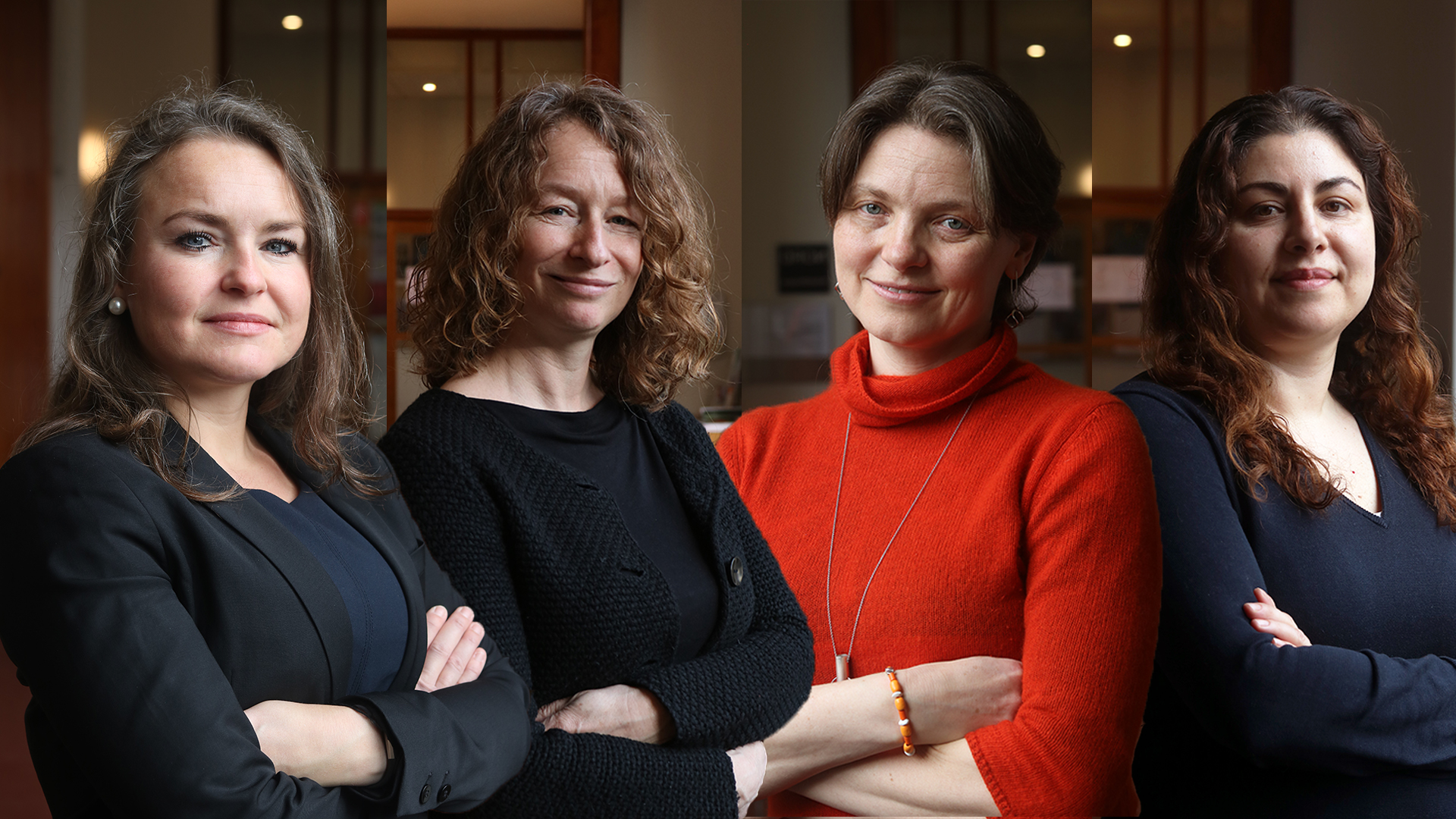 The IT industry and IT educations have long wished for more women to identify themselves with subjects such as Computer Science, which for many years mostly have attracted men. Also, at the higher levels of research at the universities, female computer scientists are in the minority. Despite these poor statistics, the number of female professors at the Department of Computer Science, University of Copenhagen (DIKU) has quintupled in just a year and a half.
- It is fantastic to see Computer Science being in such a development that we have succeeded in attracting more talented women to the profession, which has otherwise been difficult in the past. That is clear to us with our four new female professors, but also with the growing gender diversity among our students, where we have recently experienced that more women apply for our programs. I'm very happy that our female students are now more likely to meet female professors during their studies, says Mads Nielsen, Head of Department and Professor at DIKU.
18 months ago, there was one – now there are five
Until 18 months ago, DIKU only had one female professor, Pernille Bjørn, who was appointed professor in 2015 and Deputy Head of Department for Research in September 2019. Pernille has been a pioneer for the FemTech project, which has been implemented to help increase the number of women in IT educations. Among other things, FemTech has organized well-attended workshops for female high school students, who could try out programming.
18 months later, Pernille has been followed by first Marleen de Bruijne, then Christina Lioma and most recently Irina Shklovski and Katarzyna Wac. The four new professors will be giving their inaugurational lecture in the coming months, and below you can read more about how they take part in shaping future IT systems.
Christina Lioma: Develops future AI technologies
In 2019, Christina Lioma became the second woman in Denmark to obtain a higher doctorate degree in Computer Science. She is head of the largest research section at DIKU, Machine Learning, which covers topics such as artificial intelligence (AI), medical image analysis and modelling of biological data. Christina has achieved significant results in areas such as AI, fake news and Information Retrieval. In 2018, her research team won the second place (out of 686 submissions) in a Spotify competition on predicting if users will skip or listen to the music they stream. In another international competition in 2018 on fake news detection, her team won the first prize in automatically identifying which parts of a political speech are true or false, and in 2019 they won the first prize in identifying which parts of a political speech that should be fact-checked.
Katarzyna Wac: Develops technology to improve our quality of life
Katarzyna Wac is head of the research project Quality of Life Technologies, in which Katarzyna and her colleagues develop technologies to improve health, well-being and thus the quality of life. Specifically, the project has developed a number of computational models that measure the quality of various factors that affect our quality of life, such as sleep, stress, and pollution. The models are used in apps and wearables that collect human data on these factors and calculate the quality of life. The goal is to make this technology accessible to everyone so that everyone will be able to use it to track their health and, for example, discover if a specific lifestyle can lead to chronic diseases such as diabetes. Also, the Quality of Life technologies will be particularly relevant to the healthcare system, where general practitioners will be able to use the technology as a support in diagnosing and treating patients.
Irina Shklovski: Works to create responsible, transparent and trustworthy technology
Irina Shklovski works across the fields of Human-Computer Interaction (HCI), communication, information science and science and technology studies. In her research, Irina focuses on the IT professionals who develop technology and the problems they encounter in relation to privacy, ethics, morality, and responsibility. She has previously investigated, among other things, the feeling of powerlessness that people experience in the face of massive personal data collection. In her research, she applies a user-centered approach to the growing concern about the role of data infrastructure, data-driven decision-making, data protection, and privacy.
Marleen de Bruijne: Improves the ability of computers to analyze medical images
Marleen de Bruijne is Professor of Medical Image Analysis. She develops machine learning techniques to analyse medical imaging data such as MRI or CT scans. She is involved in a number of projects, ranging from quite applied and in close collaboration with medical doctors and medical researchers, to more methodological ones. The techniques will have an impact on medical and epidemiological researchers, by automating analyses that they currently cannot do or that are very time consuming, thus making their lives a lot easier and improving understanding of disease processes. They will have an impact on medical doctors, by giving them more, and more reliable, information extracted from images, which they can use to improve their treatment decisions. Eventually, the techniques will hopefully lead to more timely and personalized treatment and therefore improved health outcomes for patients.
Contact
Caroline Wistoft
Communications Consultant
cawi@di.ku.dk
+45 21 30 96 31
Women in Computer Science
In Denmark and Europe in general, Computer Science has for many years attracted men rather than women. This wasn't always the case though, and elsewhere in the world, it is quite different, for example in India and at certain universities in the United States. In the early years of Computer Science around World War II, it was female mathematicians who were responsible for programming the war machines, while the men went to war. It was also women who programmed the famous Turing machine, and it was women who programmed the NASA computers used to send the first humans into space. Until the 1980s, women dominated the IT profession, but unfortunately, many women then began to seek other avenues - probably as a result of the invention of video and computer games that were marketed heavily to men.
Inaugurational lectures
We are in the process of planning the four professors' inaugurational lectures which will take place soon. Stay tuned at DIKU's calendar.