9 March 2020
Novo supports students' thesis on medical optimization
Scholarship
Better medicine and detergents that are more effective may be the result of a thesis project made by two students. Novo Nordisk and Novozymes have together donated 84.000 Danish kroner to the project.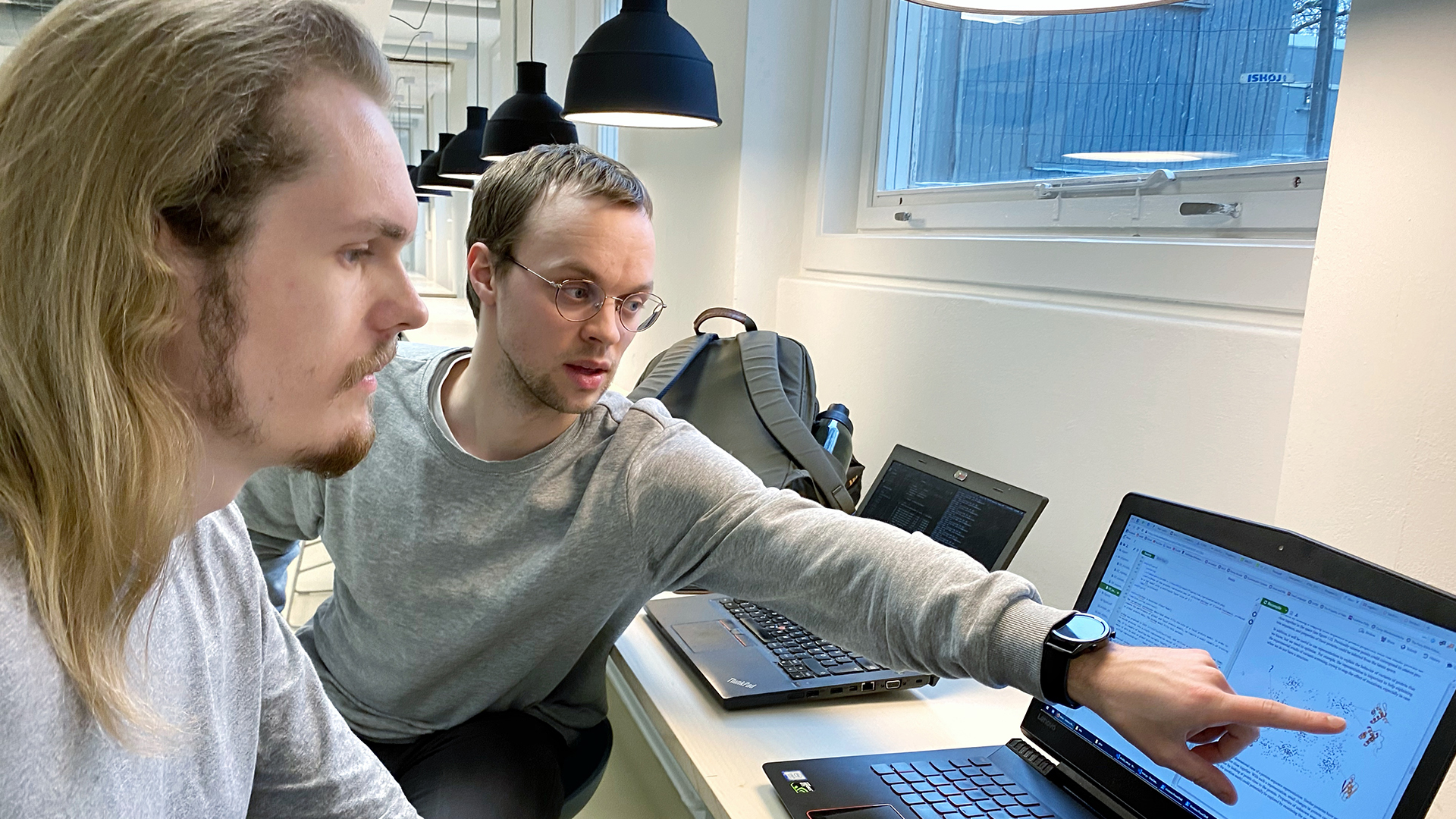 As the sole computer scientists, Emil Petersen and Victor Nordam Suadicani received this year's Novo Scholarship. A scholarship that otherwise primarily are awarded for more traditional fields of science.
The scholarship comes with a monthly payment of 7.000 Danish kroner for each of the students during their thesis project. The money is a present from Novo Nordisk and Novozymes, that want to support talented young researchers - something that makes a big difference for the two computer science students.
- It allowed us to drop our student jobs and focus fully on making our thesis as good as possible. It is so great and gives us the chance to take the project even further, says Victor Nordam Suadicani.
With the thesis, the two students use machine learning to analyze sequences in proteins that are used in medicine and washing powder, among other things. Since the biological world is brand new to the two computer scientists, they are grateful that the scholarship also comes with special access to three mentors at the Novo companies:
- We are good at modeling and working with data, so we are a little out of our comfort zone here. Fortunately, the mentors fill the gaps in our knowledge about proteins and biology, and they are very helpful in helping us see where this can be used in real life, says Emil Petersen.
Saves money and time
A protein can consist of thousands of combinations of amino acids. Therefore, it quickly becomes a costly affair, when a laboratory worker has to manually review the properties of some proteins. Emil and Victor work in their thesis to make this process easier. With machine learning, they set up a computer model that replaces the lab's work and boils all the proteins down to a more simple and tangible size that captures their most important properties.
- When we look at a new car, we are also presented to a carefully selected set of specifications and ignore the rest. It makes the process of choosing the right car more manageable when we only have to deal with important parameters such as engine power, top speed, and color. With our computer model, we try to make the same simplicity for the 38 million proteins, that we have looked at so far, says Emil Petersen.
Not only can the two students' model make it easier for pharmaceutical companies to grasp the endless world of proteins. A good model may make it much easier to develop better medicine.
- With a computer model like the one we are trying to make, laboratories would be able to predict how good the protein will turn out before spending a lot of money making it. You will simply be able to make a more qualified decision on whether to try a certain protein over others. Something that will save money and time, says Victor Nordam Suadicani.
And precisely these skills are something that the Novo companies have a big demand for, according to Rasmus Nielsen, head of the Novo Scholarship program:
- We are facing a future where not only people who can do something with pipettes are needed. Machine learning, artificial intelligence, automation, computational simulation and so on will increasinglybecome a natural part of everyday life. Especially in research-heavy companies.
More proteins in the future
The thesis' supervisor and lecturer in machine learning, Wouter Boomsma, also sees a great future potential in this particular field of research:
- Machine learning methods make it possible to tackle fundamental problems in the natural sciences in new ways. This can sometimes lead to rather spectacular improvements over existing methods. In my group we work with machine learning to capture essential properties of proteins. In addition to contributing to our basic scientific understanding of proteins, we also see great interest from companies such as Novo Nordisk and Novozymes in such models. It's really cool because it makes the road to research even shorter for students like Emil and Victor.
In three months, the two students will be looking for their first real job when they hand over their thesis. And the collaboration with the Novo companies has made the two students more excited about the the more classic natural sciences. If the thesis goes well, they both feel that companies like Novo Nordisk and Novozymes could be their right match.
- So far I have been pleased with working with Novo and the people who are there. They are really interesting, says Emil Petersen, while Victor Nordam Suadicani adds:
- They are really sharp on the theory, that we use.
To conclude the project, Emil and Victor will present their results to the two Novo companies.
Contact
Jeppe Kanstrup Jørgensen
Communications Consultant, DIKU
jej@di.ku.dk
Mobil +45 20 73 85 45