5 August 2021
In future pandemics, you can hug your friends through your computer
TECHNOLOGY
In a new and innovative research project, researchers from the University of Copenhagen, among others, will develop a technology that provides us the experience of being hugged and caressed while communicating remotely.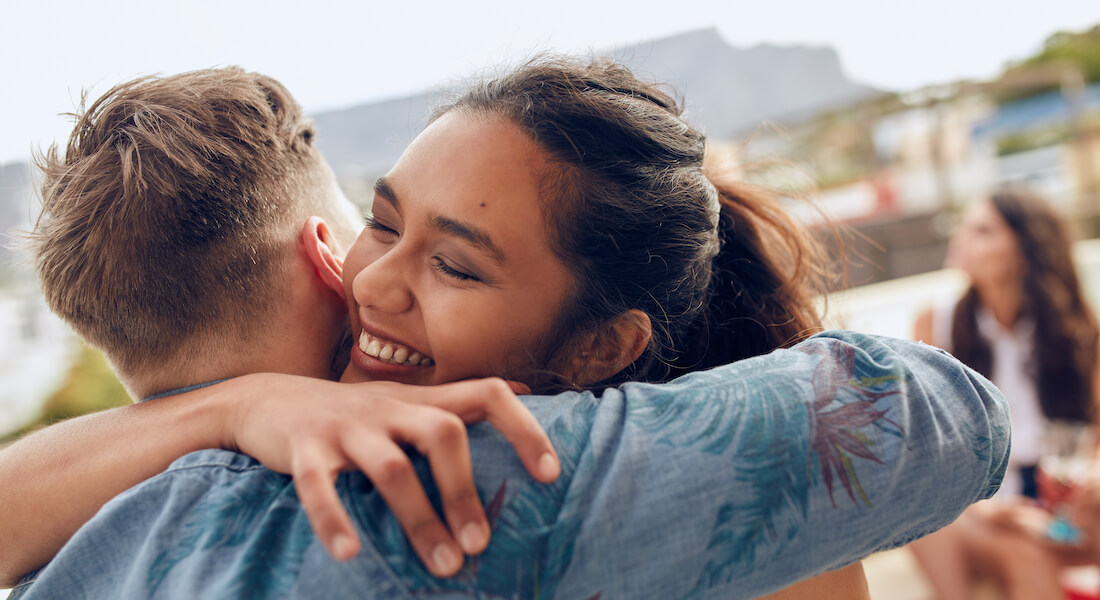 Most of us used to take it for granted – being able to give our good friends and family a hug when we meet, being able to stand close together at a concert, and being able to give a high-five to our colleagues.
The Corona pandemic has reminded us how important physical contact with other people is for our mental well-being. In the long run, touch deprivation can lead to stress and depression.
But in the pandemics of the future, or in social interactions with people far away, a new technology will be able to satisfy some of our fundamental needs for touch.
A new research project supported by the EU named TOUCHLESS is to develop a technology that makes it possible to feel touch between people without them being physically together. The technology will provide us the experience of being caressed and hugged, even though we are not. In other words, a touchless touch.
- What you will be able to feel are ultrasonic waves that your computer or phone sends towards your skin. Through these ultrasonic waves, we can create quite complex sensations of touch experiences, says Joanna Bergström, Assistant Professor at the Department of Computer Science at the University of Copenhagen.
She continues:
- This kind of technology exists today only in a limited form that can create what we call functional touch. For example, you can press buttons "in the air" instead of a physical button. With the TOUCHLESS project, we are interested in developing social touch and at the same time investigating what types of touch experiences are possible to create.
Agency of interaction is important
Joanna Bergström points out that it will be important to develop a solution that allows users to control whether they want to feel the touch or not.
- If we imagine that it will be possible to send caresses via a dating app, users must of course be able to control their boundaries. How we can make you feel agency both in touching and receiving touch is also something that we are in the process of investigating.
Once the technology is fully developed, it will be able to radically improve virtual social interactions. For years, many people have collaborated digitally across borders or settled in countries other than their home country, and for these people, touchless touch technology will create the feeling of connection to a greater degree than the video chat programs we know today.
- But there could also be other applications in digitalized areas where elements from the physical experience are currently lost. This applies, for example, to e-commerce. Here, the technology could enable the user to feel the quality of the goods that he or she is considering buying, says Joanna Bergström.
Facts about the project
The TOUCHLESS project started in January 2021 and will last four years. The project is a collaboration between researchers from University College London, The University of Copenhagen, and Public University of Navarre, plus the tech companies Ultraleap, SoftServe, and Crowdhelix.
The research field is called haptics, which comes from the Greek word haptesthai, "to touch". In haptics, researchers work with sensations of touch, which are used in Virtual Reality, among other things. Watch a short video on how haptics works here.
Read more about TOUCHLESS on the European Union's website here.
Contact
Joanna Bergström 
Tenure track Assistant Professor
+45 93 56 54 83
joanna@di.ku.dk
Caroline Wistoft
Communications consultant
+45 21 30 96 31
cawi@di.ku.dk