19 October 2022
DIKU creates digital twins of the future
Technology
One of the major themes at DIKU is digital twins, and it is also one of the main themes at this year's Digital Tech Summit 2022. At this event you can hear researchers from DIKU talk about the exciting topic!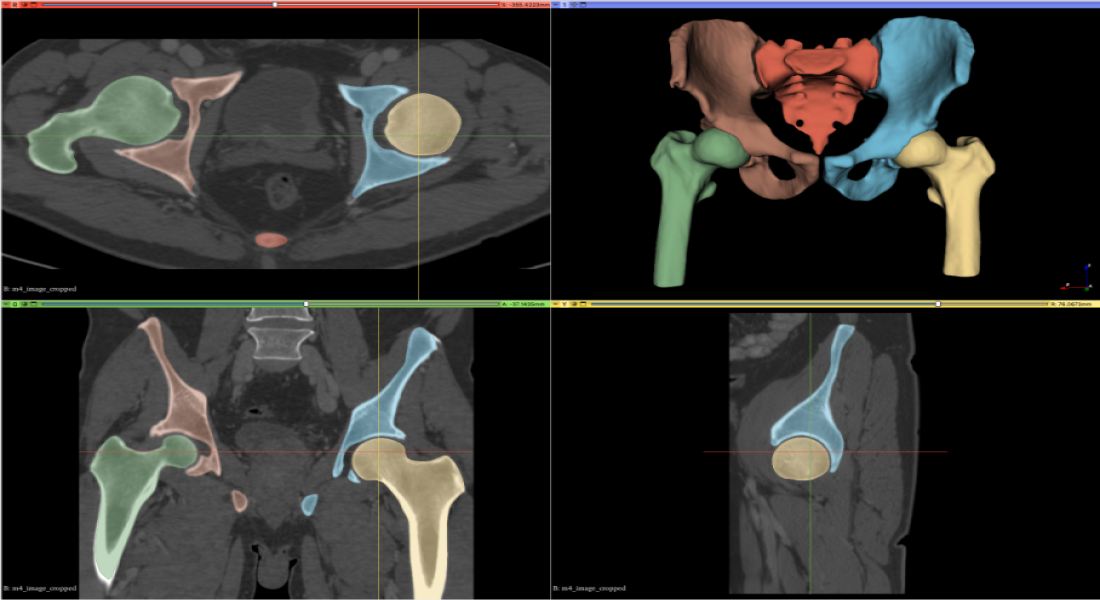 Health, sustainability and entertainment.
At first glance, these subjects might not be associated with computer science, but possibly the current political election campaign. Nevertheless, all these topics are in focus every day at Department of Computer Science at the University of Copenhagen. This is in the form of DIKU's research into digital twins. Digital twins can be created for anything – from the human body to agriculture via a computer model.
This is exactly what researchers from DIKU and other departments at UCPH will talk about at this year's Digital Tech Summit 2022. The conference will kick off on Tuesday 25. October by UCPH's rector, Henrik Wegener, and provides many opportunities to learn about digital twins and much more as the biggest tech conference in the Nordics.
The solutions of the future
A digital twin is a virtual model designed to accurately reflect a physical object, system or a process from the real world. 'The virtual model can answer to what is happening in the real world, and it can do so immediately. (...) You can ask the computer, what happens if I do this tomorrow, and then you can get answers in this way' says Kenny Erleben, professor in computer graphics and simulation and head of the research section IMAGE (Image Analysis, Computational Modelling and Geometry) at Department of Computer Science, University of Copenhagen.
The digital twins can be used to plan, design and optimize, and in this way, they can be used for the operation of companies, robots, factories and are used in areas such as energy, health and much more.
One of the goals of the work with digital twins at DIKU is to be able to create simulations of populations for example in the healthcare sector, which is a topic they focus on a lot. If you work with a medical product, for example, the virtual people must be exposed to this and tested in various situations. In the beginning, the simulation provides a picture of what happens to the individual – and ultimately, to a whole population. In this way, you get a huge amount of data that can predict what happens in a given scenario.
When this data can be analysed, the aim is that the products must ultimately be improved and optimised. Kenny Erleben explains, 'this kind of analysis; There are no tools at all to do it with. So it's a completely new field of research that will be opened up for (...)'. Even though they are not quite ready for it yet, he is looking forward to the day they get there. 'It's a bit exciting to start scratching the surface. It is coming quietly. In six months, we will have it' says Kenny Erleben, who discusses DIKU's research at the Digital Tech Summit 2022.
DIKU's research areas with digital twins
The green agenda – co-operation with PLEN and FOOD at UCPH
Entertainment, games, film and health care services – collaboration with companies such as Zenze, Rucoco and SHFT
Learning in robotic control - collaboration with Nvidia, SDU and UR
Digitisation of many different things – insects, legislation documents, trees, plants, etc.
Diagnoses/prognoses of medical data – both image data and not image data such as patient records and hospital data
New designer hip with digital twins
One of the digital twins' projects DIKU has been working on is part of the worldwide research project known as ' Rainbow '. Postdoc, Faezeh Moshfeghifar, in the research section IMAGE (Image Analysis, Computational Modelling and Geometry) at Department of Computer Science at the University of Copenhagen has been working on digital twins of the hip joint.
She has created many digital twins of hip joints and can, as a result of this, already design specially adapted hip joints for the individual person. However, her research results can extend to much more than just hips. 'If we want to develop a hundred finite element models of a completely new location in the body, it would take approximately six months depending on the case', Faezeh Moshfeghifar explains. And that is really fast considering she spent 12 months on the very first digital twin model, which laid the foundation for her further work, which you can learn more about at the Digital Tech Summit 2022.
There are also several other advantages to being able to do simulations of different body parts. With Faezeh Moshfeghifar's methods, it will be possible to help surgeons choose the best treatments using the digital twins, plan the best training methods for a specific problem and provide live feedback during an operation.
And we won't have to wait a long time before her research is used in the real world. It's already well on the way she says. 'We're already talking with companies now to collaborate with them. They are excited to start working together. We are applying for funds, and as soon as we have them, we can start'.
Rainbow Research Project
Purpose: Rapid Biomechanics simulation for personalized clinical design
Rainbow was part of the 'Marie Sklodowska-Curie European Training Network'
15 PhD students from Denmark, Spain, Luxenborg, England, France and Germany
The project included 7 universities, 1 hospital and seven industrial partners
The project ran from 1. April 2018 to 31. March 2022
Want to learn more?
Want to learn more?
This year's Digital Tech Summit is a two-day conference from 25.-26. October, which the University of Copenhagen and the seven other Danish universities are collaborating on. This is why several DIKU and UCPH researchers are giving lectures and having events based on their research in the theme of digital twins.
Read more about DIKU's and the University of Copenhagen's lectures and events at the Digital Tech Summit 2022 and buy a ticket. It is free for students, PhD students and startups. 
Contact
Anders Pall Skött
Head of section for Enterprise and Innovation
UCPH's head of Digital Tech Summit
Department of Computer Science 
University of Copenhagen
Mail: anders.pall@di.ku.dk
Phone: +45 23 81 08 86
Kenny Erleben
Professor in computer graphics and simulation
Head of research section IMAGE (Image Analysis, Computational Modelling and Geometry)
Department of Computer Science 
University of Copenhagen
Mail: kenny@di.ku.dk   
Phone: +45 35 32 14 13
Pernille Pia Hansen
Communication consultant 
Department of Computer Science 
University of Copenhagen
Mail: peha@di.ku.dk
Phone: +45 93 56 53 40
Topics