15 November 2023
Clean Sweep: Department of Computer Science takes home three Business Awards
HONORARY AWARDS
On 15 November 2023, two researchers and two students from the Department of Computer Science were presented with this year's business and innovation awards from the Faculty of Science (SCIENCE). The awards celebrate business collaboration and innovation in an educational or research context.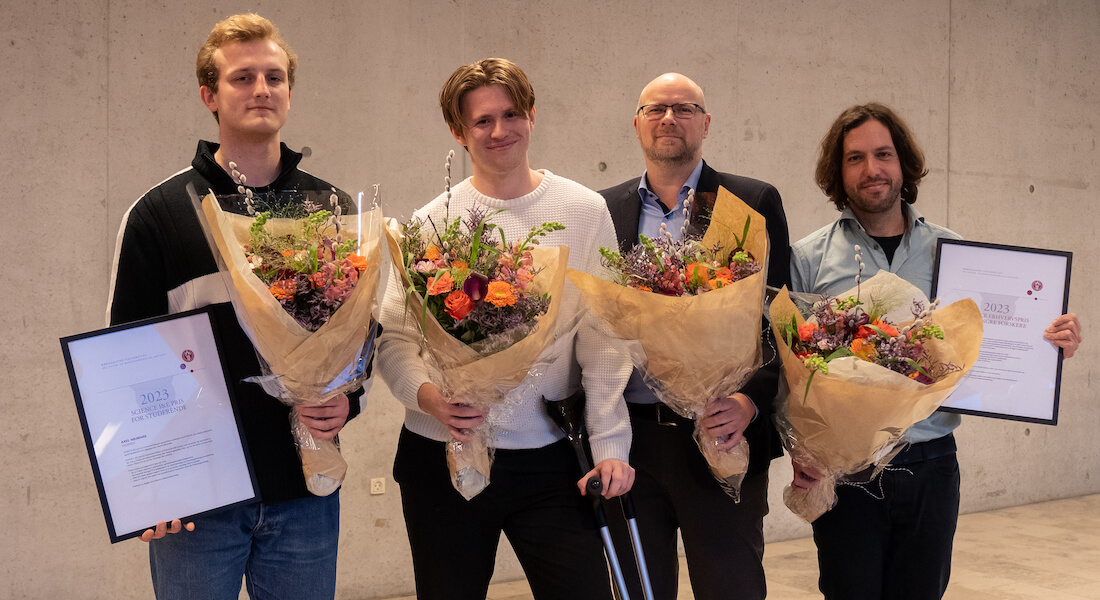 Professor Martin Lillholm was the lucky winner of the SCIENCE Business Award, as he has actively contributed to transforming research into commercial and clinically relevant solutions in the field of radiology all throughout his career. As co-founder of the companies Cerebriu A/S and Biomediq A/S, he has transformed research into medical devices approved by the authorities, obtained several patents and a collaboration agreement with Siemens, the market's largest supplier of MRI scanners. 
In addition, Martin Lillholm has helped implement AI in the Capital Region of Denmark's breast cancer screening program, which improves the quality of the screenings and reduces the workload by up to 35%. He has also held numerous courses, masterclasses and seminars for hundreds of industry professionals and clinicians on the potential of AI in radiology.  
Impact on society
Associate Professor Omri Ross was honored to receive the SCIENCE Business Award for young researchers. Throughout his career, Omri Ross has equally sought to create outstanding research results in financial technology and transfer them to applications that are of great benefit to society. His research can be found in applications used by millions of people around the world. 
Omri Ross' startup was acquired by global fintech giant eToro Group, where he now serves as Chief Blockchain Officer alongside his position as Associate Professor at the Department of Computer Science. This has also made him a familiar face in international financial media such as Forbes and Bloomberg.   
Omri Ross is also involved in the NGO GoodDollar and the annual Blockchain Summeschool, which inspires students to come up with innovative solutions to financial problems.   
All good things come in threes
The SCIENCE Innovation Award went to Christian Mølholt Jensen and Axel Højmark who hold a bachelor's degree in Machine learning and data science. The two students won the innovation award for dedicating their bachelor thesis to developing the AI platform DeepFeed which helps small and medium-sized businesses create and manage content on social media. This makes SMEs more competitive compared to larger companies who have far more power when it comes to marketing and communication.    
Christian Mølholt Jensen and Axel Højmark are also proud to have won the Danish AI Championship in 2022 and to have reached the semi-finals of this year's Venture Cup. With the innovation award, they receive a travel grant of DKK 30,000 and are planning a trip to Silicon Valley to showcase their platform and hopefully cultivate the American market. 
Congratulations to all four winners of this year's Business Awards! 
Topics