27 September 2019
DIKU researcher honoured for his research benefitting the health sector
SCIENCE Business Prize 2019
For more than 10 years, Tariq Osman Andersen has worked in the intersection between design, sociology, innovation, and computer science to create new communication platforms for the health sector. His commercial approach to the application of his research has just earned him SCIENCE Business Prize for Young Researchers 2019.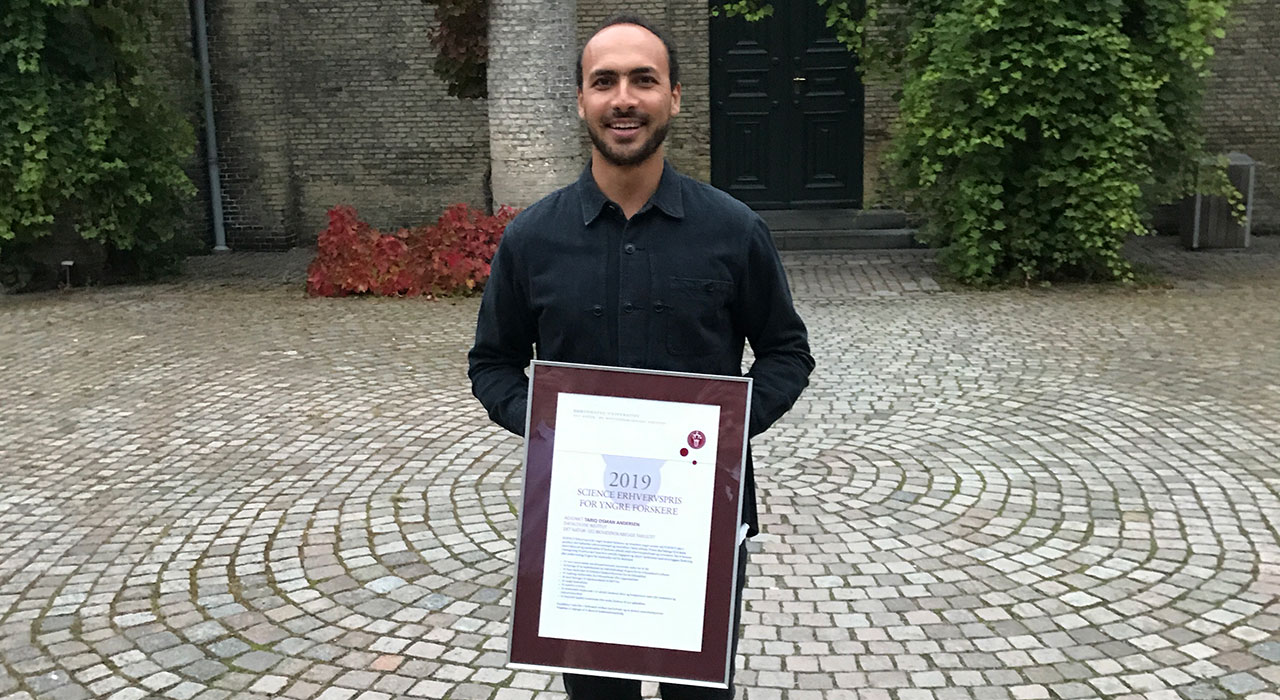 The Faculty of Science works to help solve challenges facing society. It does so by, among other things, promoting interaction between the faculty's research and public and private companies. Every year, the faculty honours those who, in this context, are working hard to provide access to the latest knowledge and who are making an impact for businesses and authorities.
One of them is assistant professor at Department of Computer Science (DIKU), Tariq Osman Andersen, who, among other things, has developed a mobile communication platform for communication between heart patients and healthcare. Today, more than 400 patients benefit from this technology. The work was performed within the framework of the project SCAUT, that has lead to company Vital Beats (in reference to heartbeats).
Alarm can predict the risk of repeated heart attacks
In Vital Beats they now work on developing an alarm, SafeHeart, to support cardiologists in the treatment of a heart patient:
- The pacemaker sends data from which the SafeHeart algorithm calculates the likelihood that the patient will have repeated dangerous heart rhythm disorders within the next 30 days. This way, the doctor can intervene or change the treatment of the patient before the arrhythmic disorders come back, says Tariq Osman Andersen.
The technology can benefit all patients with an ICD (an advanced pacemaker that can give an electric shock to stop life-threatening attacks).
- At the moment, the first version of the system is running and we are doing a feasibility study with the doctors at the Heart Centre at the University Hospital of Copenhagen (Rigshospitalet) to evaluate the algorithm in clinical practice to assess how the alarm performs in the real world with real patients and how satisfied the clinicians are. The goal is to test a total of 100 patient cases, says Tariq Osman Andersen.
In Vital Beats they are also experimenting on bringing wearables into play to collect activity data on ICD patients and thus, improve SafeHeart and potentially develop other alarms for early tracking of impairment.
SCIENCE Business Prize
This year, three prizes have been awarded:
SCIENCE Business Prize: Associate Professor Ferdinand Kuemmeth, NBI
SCIENCE Business Prize for Young Researchers: Assistant Professor Tariq Osman Andersen, DIKU

SCIENCE Innovation and Entrepreneurship Prize for Students

: Vykintas Jauniskis, Biomatter Designs
It's the first time, the last-mentioned prize is awarded.
The winner is selected by selection committee comprising three external experts. The prizes were awarded on 24 September 2019.