28 September 2020
New AI system will detect critical heart and lung diseases faster
Artificial Intelligence
X-rays are the most used type of medical images, but at the same time, they are difficult to analyse for even experienced radiologists. A new system built on artificial intelligence will help radiologists analyse and prioritize the many thousands of chest X-rays that are taken daily in Denmark. The Innovation Fund Denmark has invested DKK 13.8 million in the project.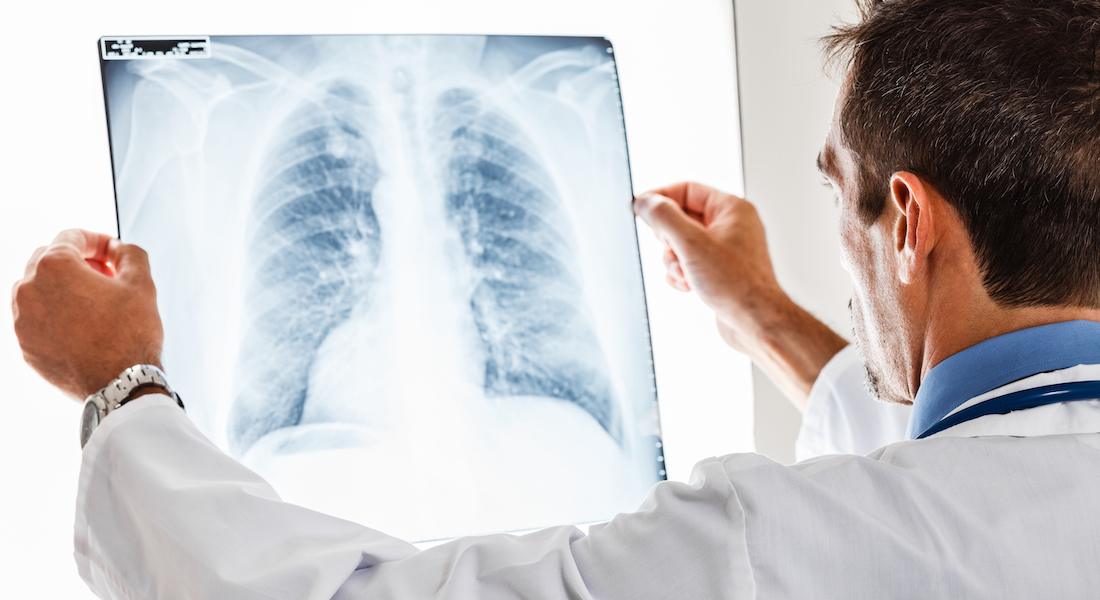 In Denmark, the most X-ray-photographed area of ​​the body is the chest area. Every year, up to 650,000 chest X-rays are taken.
Unlike 3D images taken by a CT scanner, organs and bones can shadow each other in X-rays. This complicates the analysis and causes up to 3% of critical disease cases to be overlooked.
At the same time, it is a problem that radiologists do not have a system that can identify the X-rays that show signs of diseases that requite acute treatment, and which should therefore be analysed and diagnosed first.
Therefore, a new research project will develop an artificial intelligence system that will help radiologists prioritize chest X-ray images and give the radiologists a second opinion in relation to diagnosing.
The project takes place in collaboration between researchers from the Department of Computer Science at the University of Copenhagen, Rigshospitalet – Denmark's biggest and leading hospital – and the IT company Unumed ApS.
- The goal of the prioritization system is to reduce the time that it takes before a scan of a critical case is read, from days to hours. This will mean shorter hospitalizations and sick leaves, better and timely treatment and not least fewer human costs, says Sune Darkner, associate professor specializing in medical image analysis at the Department of Computer Science, University of Copenhagen. 
As an additional radiologist
Sune Darkner explains that the system will not adversely affect the treatment time for the remaining X-rayed people whose images do not look very critical. For them, the advantage of the new system will be that they get an extra set of eyes on the analysis of their X-rays. 
- In relation to diagnosis, the system will be equivalent to having an extra radiologist on the ward which makes the radiologists better able to detect diseases in time. Realistically, we will be able to achieve a 5-10% better reading of the images. This is a big improvement, considering that Denmark in 2018 was the country with the second most lung cancer patients in the EU, says Sune Darkner.
The prospect of the new system delights professor of radiology and doctor at Rigshospitalet, Michael Bachmann Nielsen.
- The prioritization system will hopefully mean that it will not take several days before we discover critical lung and heart diseases that can cause big human costs. When diagnosing, we will always analyse the images ourselves but it will be incredibly useful for us to get a second opinion, says Michael Bachmann Nielsen.
If faster response times, as expected, reduce the length of hospitalisation for patients with pneumonia by at least one day, it will save the Danish health sector an estimated total of DKK 221 million per year. At the same time, a reduction in pneumonia-related sick days will save the Danish society an estimated DKK 75 million per year.
A dream scenario
The collaboration with Rigshospitalet allows the Department of Computer Science and Unumed ApS the opportunity to gain access to 2.5 million Danish chest X-rays, of which 40,000 will be annotated by multiple experts. The new system will be "trained" on them, i.e. learning to recognize diseases from these past images. A dream scenario for a computer science researcher:
- We have a really good dataset so we are confident that we are developing the system based on data of super high quality. It is our goal that the artificial intelligence should reach a human standard and make fewer mistakes, says Sune Darkner. 
Unumed's CEO, Henrik Albertsen, points out that the project, in addition to making a big difference for the health sector in Denmark, will also contribute with a considerable business potential internationally:
- The challenge of X-rays is a major international problem. Our project contains exactly the key players we need to develop a really strong technical solution and just as importantly a tool that radiologists want to use and are confident in. We will be able to modernize X-ray processes worldwide, both in terms of analysis quality and response times.
Topics
Contact
Sune Darkner
Associate Professor, Department of Computer Science, UCPH
+45 21 30 85 84
darkner@di.ku.dk
Caroline Wistoft
Communications Consultant
+ 45 21 30 96 31
cawi@di.ku.dk

About the project
Funding from the Innovation Fund Denmark: DKK 13.822.355

Total budget: DKK 18.892.456

Official title: "Intelligent prioritization and decision support for chest x-ray analysis" (Acronym: AI4Xray)

Main applicant: Department of Computer Science, UCPH

Partners: Unumed ApS, Rigshospitalet

Duration: 3,5 years