23 February 2021
Big grant enables young researcher to develop AI solution for pancreatic cancer
Artificial Intelligence
Diagnosing and treatment of pancreatic cancer are difficult to assess. With a new grant for research leaders in data science, Assistant Professor Bulat Ibragimov will lead an ambitious project that will leverage the artificial intelligence advances to improve pancreatic cancer treatment planning.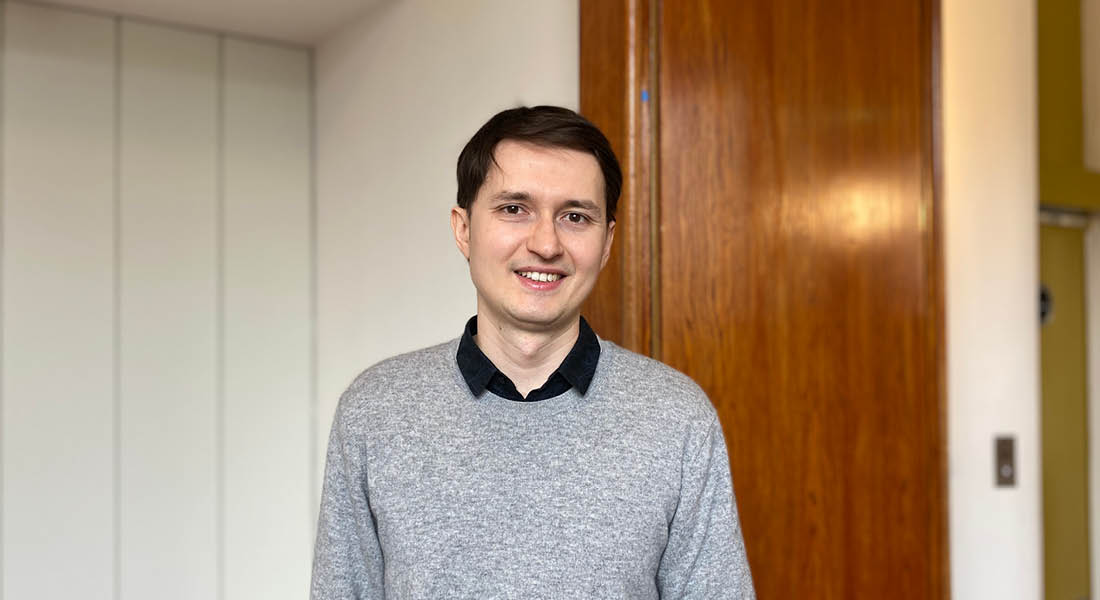 Pancreatic cancer is one of the most unpredictable types of cancer and is therefore particularly difficult to treat. Surgery is considered to be the best strategy, but unfortunately, the tumors are usually detected at late stages, and not all of them can be removed.
Currently, this endemic type of cancer is the fourth and is projected to be the second leading cause of cancer-related deaths in developed countries. Thus, there is clinical interest in ways to support the diagnosis of pancreatic cancer and planning of treatment.
For this purpose, Assistant Professor Bulat Ibragimov has set out to develop a new system based on a combination of artificial intelligence and medical image analysis.
- The aim of the solution is to improve the work of the practitioner, increase the chances of receiving treatment in time, and optimize the treatment regimen. The applicability of machine learning for pancreatic cancer treatment planning has been poorly addressed yet, and I believe that it is a great opportunity to improve this clinical area and potentially many more, says Bulat Ibragimov.
Grant of DKK 8 million
Bulat Ibragimov was recently selected as an Emerging investigator by the Novo Nordisk Foundation and received a grant of nearly DKK 8 million for his five-year project. The grant is part of the foundation's new Data Science Initiative that supports ambitious data research and specialists of the field.
- It's a pleasant feeling to receive this support and recognition of my academic career. One of the things I really like about this field of research is that it is highly practical and summons a lot of interest from clinicians – which may stem from my background in the industry, says Bulat Ibragimov.
He has extensive experience in both industry and academia in different countries since he received his PhD in electrical engineering from the University of Ljubljana in 2014. Even though he had not visited Denmark before, he decided to move from San Francisco to Copenhagen with his wife and young daughter when he was invited to his current position at DIKU.
- DIKU is among the top computer science departments in Europe and Denmark is a great place to live, especially when you have a family. It was not an easy decision to leave the United States, but we are very happy to live here now, says Bulat, who is originally from Kazan, Russia. 
The next direction of AI
Even though he has now chosen an academic career, Bulat sees great value in keeping his academic research in the same flow as the leading tech companies' prognoses of the new and important directions in AI research.
For this reason, his pancreatic cancer project also has a technical branch where the aim is to work on merging shape analysis and artificial intelligence. This is believed by Facebook AI to be the next direction of major impact in data science.
- We want to improve the computer's capability to understand and recognize shapes. In medical imaging, shape has been of great interest and value, and there is a lot of room to enhance diagnostic solutions with shape analysis. Such an enhancement could benefit many future applications, says Bulat.
Topics
Bio: Bulat Ibragimov
Bulat Ibragimov is an Assistant Professor of Machine Learning at the Department of Computer Science (DIKU). Previously, he was a Senior Research Scientist at Auris Health in 2018-2019, and a Postdoctoral Fellow at Stanford University in 2016-2018. He received his PhD degree in Electrical Engineering from the University of Ljubljana in 2014.
Bulat is a winner of multiple international competitions on medical image analysis and computer-aided diagnosis. His research interests include the use of machine learning for abdominal radiotherapy planning, musculoskeletal pathology quantification, and lung pathology diagnosis.
Bulat is originally from Russia but he now lives in Copenhagen with his wife and daughter.
Project facts
Title: "Leveraging artificial intelligence for pancreatic cancer diagnosis, treatment planning and treatment outcome prediction"

Funding from the Novo Nordisk Foundation's Data Science Investigator – Emerging 2020 programme: DKK 7.9 million

Duration: 5 years

Four PhD students will be hired.