Human-Computer Interaction (HCI)
Human-computer interaction relates to the design, implementation, and evaluation of interactive technology. Our research focuses on new sensing and tracking technologies, information visualization, shape change, and mobile user interfaces. New and innovative designs are empirically studied in collaboration with potential users. In our research, we strive to build on an understanding of human needs and capabilities.
Wallviz
The objective of the WallViz research project is to use visualization on wall-sized, interactive displays for improving decision making from massive collections of data. The academic project participants address this objective in collaboration with case partners working in healthcare, finance, and sustainability.

Their analysis of data is essential for efficient use of resources and has direct consequences for businesses and society, for instance by improving the resource efficiency of the healthcare sector, analyzing resource expenditure in companies, and helping address climate change.

The project is funded by the Danish Council for Strategic Research and financial contributions from Microsoft and Autodesk.
GHOST
GHOSTs (generic, highly-organic shape-changing interfaces) are display surfaces made of malleable materials that can change into and retain arbitrary shapes so as to display output from the system or afford new actions. At the same time, GHOSTs allow users to deform, touch, or otherwise manipulate the shape of their display surface to provide input to the system.

GHOST is a collaborative project funded by the EU under the FET-Open program.

 
Anders Markussen, Postdoc
Esben Warming Pedersen, Postdoc
Giovani Maria Troiano, PhD-student
Mikkel Rønne Jakobsen, Assistant Professor
Søren Knudsen, PhD-student
Contact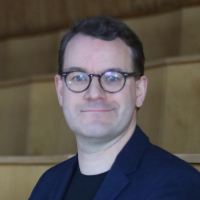 Kasper Hornbæk
Professor
kash@di.ku.dk