10 May 2021
Eight papers accepted at CHI 2021
CHI
The researchers from the Department of Computer Science's Human-centered computing section present eight full papers and one journal article at the CHI conference of 2021, one of the most prestigious conferences of the field. The group also received one best paper and two honorable mention awards.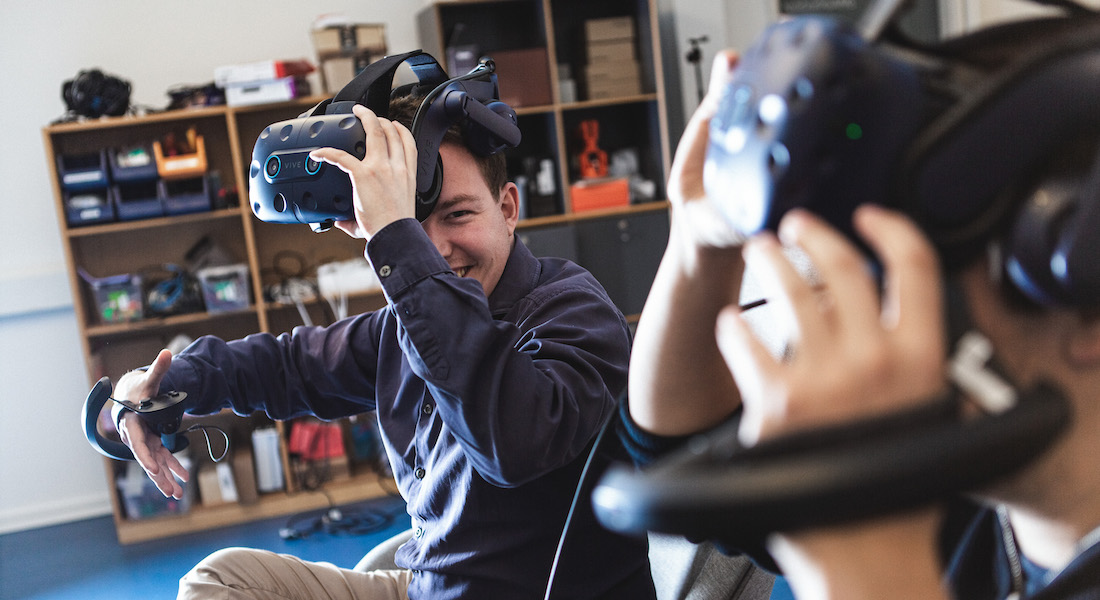 Full Papers
Bad Breakdowns, Useful Seams, and Face Slapping: Analysis of VR Fails on YouTube




Emily Dao,

Andreea Muresan, Kasper Hornbæk

, Jarrod Knibbe


Honorable mention award
Watch a demonstration on YouTube


Empowering Resignation: There's an App for That
John S. Seberger, Marissel Llavore, Nicholas Wyant, Irina Shklovski, Sameer Patil
Honorable mention award
Watch a demonstration on YouTube



How to Evaluate Object Selection and Manipulation in VR? Guidelines from 20 Years of Studies


Joanna Bergström, Tor-Salve Dalsgaard

, Jason Alexander,

Kasper Hornbæk
Best paper award



Locomotion Vault: the Extra Mile in Analyzing VR Locomotion Techniques




Massimiliano Di Luca,

Hasti Seifi, Simon Egan, Mar Gonzalez-Franco
Watch a demonstration on YouTube



MorpheesPlug: A Toolkit for Prototyping Shape-Changing Interfaces


Hyunyoung Kim

, Aluna Everitt,

Carlos Tejada, Mengyu Zhong, Daniel Ashbrook


Watch a demonstration on YouTube





Ninja Hands: Using Many Hands to Improve Target Selection in VR


Jonas Schjerlund, Kasper Hornbæk, Joanna Bergström
Watch a demonstration on YouTube



Poros: Configurable Proxies for Distant Interactions in VR


Henning Pohl, Klemen Lilija, Jess McIntosh, Kasper Hornbæk


Watch a demonstration on YouTube





SoloFinger: Robust Microgestures while Grasping Everyday Objects




Adwait Sharma, Michael A. Hedderich, Divyanshu Bhardwaj, Bruno Fruchard,

Jess McIntosh

, Aditya Shekhar Nittala, Dietrich Klakow,

Daniel Ashbrook

, Jürgen Steimle




Watch a demonstration on YouTube



TOCHI Journal Articles
About the ACM CHI Conference
CHI, widely recognized as the most important global showcase for human-computer interaction, provides researchers and practitioners from around the world the opportunity to gather to discuss the latest in interactive technology.
Dozens of widely-used products and technologies have debuted at CHI prior to market deployment, including various foundational AI technologies, Internet of Things (IoT), smart homes, wearable devices, fitness tracking devices, social networking, instant text messaging, human-robot interaction, multi-touch and 3D interaction, and tangible interfaces, among others.
Originally a small conference for psychologists interested in user interface design, the annual CHI conference has grown to include a diverse group of interaction designers, computer scientists, engineering psychologists, developers, and performing artists. CHI also addresses the organizational integration of technology, and the use of technology in all areas of life.